The topic of women and pants was still debatable in the 1960s and thus, women wearing pants in the 1920s was a kind of revolt against the traditional ideologies. The fact that women could wear something that is accepted to be men's clothing, was not acceptable in the common public although there were a few exceptions.
Let us have a look below at the kinds of women's pants that the women in the 1920s used to wear making a bold statement and what options are available online today for you.
1920s Women's Pant Suits
1. 1920s Knicker Sport Pants
Women were somewhat allowed to wear sporting pants and knickers for leisure and sports activities but they were not allowed to wear them for casual meetings outside. Sports like golf, hiking, horse riding, and hunting call for some comfortable attire, and hence the adventure-seeking women from Egypt, Australia, and Africa found knickers to be more comfortable for exploring the unknown rugged landscapes.
Some women who were not into sports still wore them during weekends for leisure and women working at Hollywood sets adopted them as their work outfits. The sports outfits were called togs and the fashion of togs grew and changed over the years in the 1920s.
Walker and Hawkes Men's Derby Tweed Shooting Plus Fours Breeks Trousers – Dark Sage
These dark sage colored breaks trousers are best for the portrayal of the 1920s sporty look. The fabric is 100% cotton and provides warmth and comfort to you, thus, appropriate for winters as well. It comes with button and flap pockets. The fabric is Teflon coated and the pant has velcro adjustable calf straps. The waistband consists of an elasticated grip.
The inner leg length is 20 inches with the outer leg length having 29 inches. The outer shell is made from 60% wool, 25% polyester, 11% acrylic, and 4% other fibers which qualifies it to be a top-quality fabric which is a great choice to invest your money on. Other features include a buttoned flapped enclosure, brass front zip, dropped belt loops, 2 side pockets, and 1 back pocket.
Also Check
All in all, it is a great choice to have in your wardrobe and can go with all formal shirts and vests and you can top it with Walker & Hawkes Unisex Derby Harris Tweed Herringbone Flat Cap Charcoal, to get the 1920s look.
Check other hats for women here
2.Riding Breeches
Although the riding breeches, the pants are for horse riding. Looks the same as the knickers, the difference between them is the design. There were fitted side lacing leg up in the breeches up to the knee level and then came the wide thigh and hip up to the waist level.
The breeches were baggy and provided enough room for the seat and the slim leg was a perfect fit for the riding boots. The breeches were for horse-riding only but women wore them during other sports and traveling as well.
Historical Emporium Men's Wool Blend Herringbone Tweed Knickers
These wool-blend herringbone tweed knickers have the eye-catching style of the 1920s. The design is highly inspired by 20th-century fashion. These are going to look perfect if you want to portray a 20s style in a sporting event or wear them to themed parties.
The woolen fabric consists of 25%wool, 40% acrylic, and 35% polyester. It is satin lined to the knee to provide you comfort. It is recommended to dry clean it only. The leg style is straight and it comes with a button pocket style.
The two front pockets and the two back pockets provide enough room to keep your belongings. Both belt loops and interior suspender buttons are provided. Knickers, Knee-breeches, or Knickerbockers, you can call it anything you want.
Also Check
This can be styled by wearing Wonderful Fashion Men's Classic Herringbone Tweed Wool Blend Newsboy Ivy Hat which is available in various colors on Amazon.
3.1920s Bloomer Knickers
These were for the girls to wear at school and the gym. The design was made to be tight below the knee and above that, it gave a baggy look. Middy tops were in fashion for a decade and were combined with the bloomers to get a sporty look. The navy and black colored soft fabric bloomers were popular but then satin bloomers came in fashion with colors such as red, green, purple, and many more. This fashion was in the trend until the 1930s.
1920s Black Athletic Pants Bloomers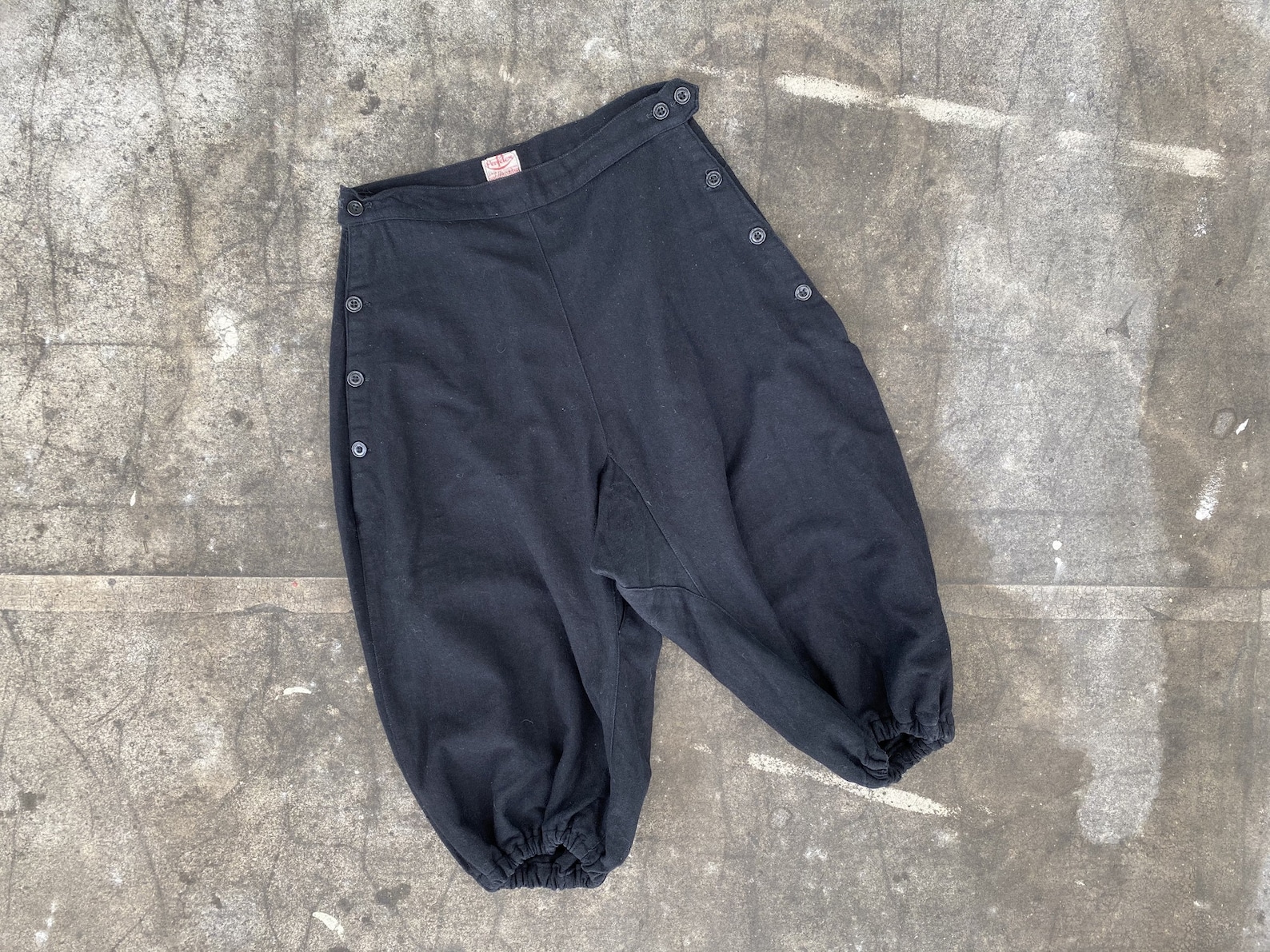 These bloomers are styled with a vintage touch to them. It is completely made of wool. It has got side button closure and is very comfortable to wear and carry. You can wear it to your sports events or just to exhibit a roaring 20s look.
You can wear it with casuals on your normal days to just visit some friends or get groceries from the nearest store. It has got a high fitted waist with buttons down each side hip. The fitting is loose and there is elastic at leg openings. The baggy appearance is going to make you look cool and at the same time will keep you warm in the cold weather.
Since it has got a sporty look, it will look good with sports shoes or sneakers. To keep up the casual look, you can wear it with Kodiak Women's Indra Sneaker available on Amazon.
4.1920s Beach Pajama Pants
The two-piece beach pajama was more feminine in design. They looked like sleeping pajamas but they were not, although they had similar styles, the beach pajamas were more closer to the sportswear type.
The fabric used to make these wide-leg pants were silk, cotton, or crepe-de-chine. Some were designed to have bell-bottoms but mostly fitted like palazzo pants that were worn with matching or contrasting sleeveless tops. Matching wrap jackets were also available to cover-up at the beaches.
These pants became more of a hit during the 1930s when these were worn at theatres, for meeting close friends, or hosting parties. Linen, velvet, and cotton were used to distinguish it from the silk/satin sleeping pajamas.
Artfish Women Loose Baggy Pajamas Casual PJs Palazzo Lounge
These casual PJs Palazzo pants have got a wide leg style. The fitting type is loose and it has got an elastic soft waistband. The fabric is comfortable, soft, lightweight, stretchy, and breathable. It has got a baggy look and roomy style that makes you move freely in them.
It can be worn for sports, yoga, outdoor activities, exercise, dance, pilates, travel, beach, work out, sleepwear, jogging, running errands and can be worn as casual wear on an everyday basis as well. A low-temperature machine or hand wash is recommended.
It is available in four colors and is very trendy just like the 20s beach pajamas back then. Although this one serves more purposes than the beach pajamas did at that time. These have got comfort and style, both at the same time.
5.1920s Men's Pants for Women
Are you a fan of the gangster style portrayed in Peaky Blinders by the female characters? That exact kind of confidence was needed to dress up exactly like a man back in the 1920s. The design of these women's trousers was the replica of the men's pants with little difference in the designs, for example, women's trousers had no-fly/side button closure in contrast to the button fly in men's trousers.
These pants were not easily purchased but either custom made or modified from the men's trousers.
Icecoolfashion Women's Wide Leg Smart Trousers Ladies Loose Fit Office Work Pants
These work pants are made up of mixed fibers, 78% polyester, 18% viscose, 4% elastane, and come with zipper closure. The inseam has a length of 33 inches. This is going to provide you with a sophisticated style and is an example of how back in the 1920s women's trousers were made by altering the men's trousers.
This has a wide opening at the bottom. This is going to look very stylish yet remaining in the domain of formal attire. These are loose trousers with a mid-waist length. It has got a trendy thick waistband. This pant features side pockets and inverted pleats that add up to a smart shape.
Belt loops are provided for you to wear a belt to make it fit or to accessorize the pants. It has got 2 buttons on the waistband and a zip fly for a smooth fastening, giving you a neat and clean appearance overall.
Also Check
You can wear it to work pairing it with REFRESH Leatherette Lace Up Oxford Chunky Booties Women Ankle Heels.
Want more shoes like there? We've covered a whole other article talking about the shoes women used to wear in 1920s.
6. Women's Tuxedo
The women's tuxedo was famously worn by the female cabaret performers. These were popular as show costumes and the design was that of a men's tuxedo only that were altered to fit a woman's body. It was fashioned with derby/bowler/top hat, came, a monocle and oxford shoes. The 1920s and 1930s have seen this fashion as part of the stage performances.
Charades Adult Gangster Moll Costume
This women's gangster costume is a set of jackets, pants, and neckties. The hat and weapon shown can be bought separately. This costume is designed to have black and white pinstripes with double-breasted jacket button details and have faux pockets.
This comes with matching black and white bottoms. The necktie gas got a golden dollar sign print. The high waisted pants are going to give a touch of the roaring 20s to it. The fabric is soft and comfortable to wear. It fits well with your body. You can wear it to 20s themed parties and you can be sure of getting a lot of appreciatioprn for wearing this.
Also Read
You can style it with Rhode Island Novelty Roang 20s Gangster Costume Black Pin Stpe Fedora Hat available on Amazon.
Check other headwears for women.
7.Workwear
The laborious work at farms made it difficult for women to do their work wearing dresses. Hence, they were forced to adapt men's overalls for working in fields. This trend was coming from the First World War.
There were a few overalls that were custom made during the 1920s but they were not in fashion as such. And those available in markets were targeted at women who did gardening and house chores only. Women doing laborious work as men did so out of need only during the 1920s because the rest of them were discouraged to do so.
Hello there! I'm Mary Smith. I've worked behind the scenes in CrazzyVintage, Love to explore Vintage fashion trends. If you love my content, do follow me on social media for regular updates on Vintage Clothing. I'm super active there and will definitely assist you in buying what fits you the most.